About Attuned Psychology Adelaide
With an experienced team of Psychologists and Therapists, Attuned Psychology Adelaide aims to help you or your loved ones bring harmony and balance to areas that are blocking the path to a more meaningful life.
We ensure your experience is comfortable, confidential and safe at Attuned Psychology Adelaide's two practices.
Our welcoming, relaxing and private consulting rooms in North Adelaide are set in a lovely heritage building, featuring beautiful South Australian artworks so you feel more like you are visiting a trusted friend than a clinical practice.
Our welcoming and comfortable rooms in Glenelg are co-located with Adelaide Night And Day Therapy on Brighton Road. 
These buttons below will take you down the page to find more information about:
Or make an appointment enquiry using our form
Our tailored consultations at Attuned Psychology Adelaide focus on helping a range of people of all ages including:
Our team of qualified practitioners at Attuned Psychology Adelaide will aim to help with the following common issues and many more:
Trauma
LGBTQI+ – Identity, Sexuality, Gender 
Self worth and confidence 
Work/Life Balance
Substance use/Addictions
Adjustment to chronic illness
Emotional Regulation
As a team we draw on a range of therapeutic approaches and  including:
Dialectical Behaviour Therapy (DBT)
Narrative Therapy
Sensorimotor Psychotherapy 
At Attuned Psychology we provide a choice of psychologists and therapists with knowledge and experience to look for the best fit between you and your practitioner.
We tailor consultations to suit your unique needs and help you to achieve your desired outcomes as our practitioners' expertise is extensive.
Click through to learn more about the range of Therapeutic Approaches we offer.
Attuned psychologists have post graduate University qualifications in psychology and each has significant professional practice experience in both public and private settings so you can be assured we have the knowledge, skills and experience to help you. We have a mixture of Registered and Clinical Psychologists on our team.
Our Psychologists are registered with the Psychology Board of Australia and Full Members of the Australian Psychological Society or Australian Association of Psychologists, and as such bound by a code of ethics that guarantees you will receive a quality confidential service.
Our professionalism as Psychologists and as recognised health providers qualifies our services for either private health insurance or Medicare Rebates, depending on the nature of the issues and the service.
Attuned Psychotherapists  have Masters university and other additional qualifications and each has significant professional practice experience so you can be assured they have the knowledge, skills and experience to help you.
Our Psychotherapists are highly experienced Accredited Mental Health Social Workers and have worked  extensively in child, youth, and mental health settings.
Unlike many counsellors or therapists, they attract Medicare rebates for therapeutic services as Medicare has required them to meet strict additional mental health training, extensive supervision and professional development requirements.
In terms of private cover some funds like BUPA and Teachers Health cover Accredited Mental Health Social workers so please check with your fund to determine if you are eligible to see one of our Psychotherapists/Mental Health Social Workers.
Like psychologists they are required to keep updating their understanding of therapeutic models, undergo supervision and are required to maintain the strictest of ethical standards. 
Additionally, our non-Psychologist Therapists are bound by the same principles as the psychologists who work at Attuned Psychology, as well as those stipulated by their professional associations and the principles of law.
Our Provisional Psychologist
Please note that Anne Marie Newham, one of our Accredited Mental Health Social Workers has recently gone back to study to complete her psychology training. Anne Marie has completed 4 years of her psychology training and is now practicing as a Provisional Psychologist.
Over the next 2 years  she will be closely supervised as she gathers more clinical experience providing psychological services. Her goal is to become a Registered Psychologist to add to her qualifications and significant experience as an Accredited Mental Health Social Worker. 
Welcoming rooms plus teleheath
We ensure your experience is comfortable, confidential and safe.
Our welcoming, relaxing and private consulting rooms in North Adelaide and Glenelg , will help you feel like you are visiting a trusted friend rather than a clinical practice.
Plus, a number of our clients have started using telehealth with us, so they can have their therapy sessions via video or phone; it's now an important way that we can maintain continuity of care during the pandemic and beyond.
As we adapt to more hybrid ways of working and greater emphasis on flexibility, we note our community has embraced the options available to them and we are pleased that there is now permanent Government support for Medicare rebates for telehealth services as well as face to face services. This means that you are able to maintain services if you move interstate, travel, prefer the convenience of telehealth or need to do so due to illness. 
For further information, any enquiries or to make an appointment, please call us on 08 8361 7008.
We have practitioners available to see you during business hours,and after hours including some Saturdays
A flexible, thoughtful place
Our rooms are spacious and relaxing, with comfortable waiting areas while you wait, a large carpark at the rear and an impressive hallway with beautiful artworks as you walk through the building. We believe this setting provides a welcomed character rather than a corporate office environment.
We also take great care in ensuring infection control is kept to the highest standards and as such have clients spaced out in our rooms while they are waiting to keep everyone safe. We have done all we can to create an experience that facilitates change and growth by ensuring people feel comfortable enough to relax and talk.
We look forward to welcoming you or others you are connected to into our space.
Our welcoming, relaxing and private consulting rooms in North Adelaide are set in a lovely character building just minutes from the centre of Adelaide.
Our walls feature beautiful South Australian artworks so you feel more like you are visiting a trusted friend than a clinical practice.
Our high quality stylish, artistic and comfortable consulting rooms all have beautiful high ceilings and each of them serve one or more functions.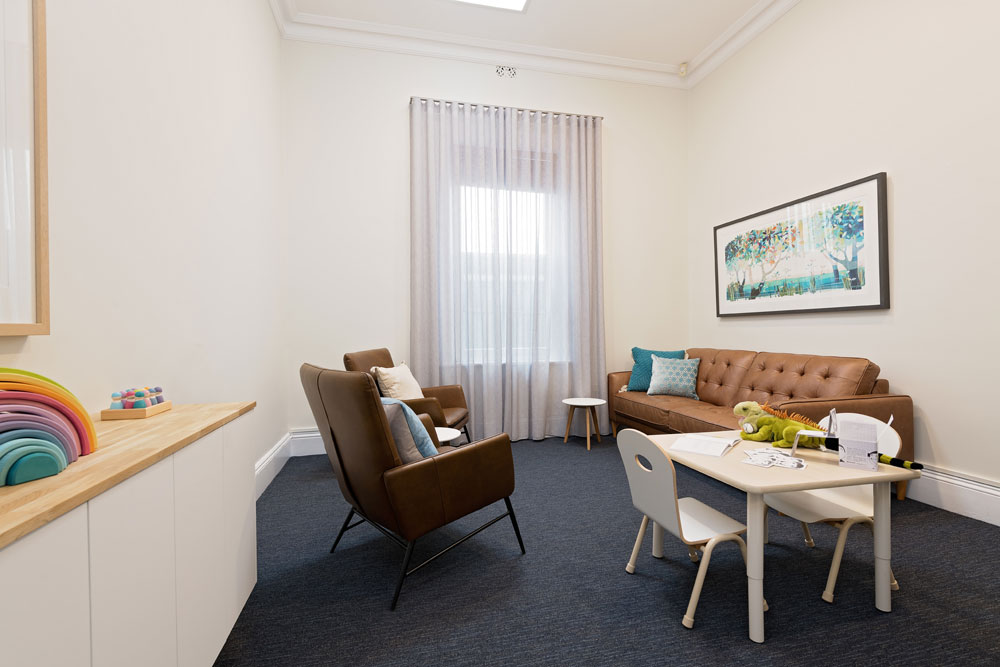 Our consulting rooms in Glenelg are co-located with Adelaide Night & Day Family Therapy.
This beautiful location on Brighton Road, captures the feel of this seaside suburb's architecture, creating a sanctuary amid the hustle and bustle of the area.
You will always be warmly welcomed.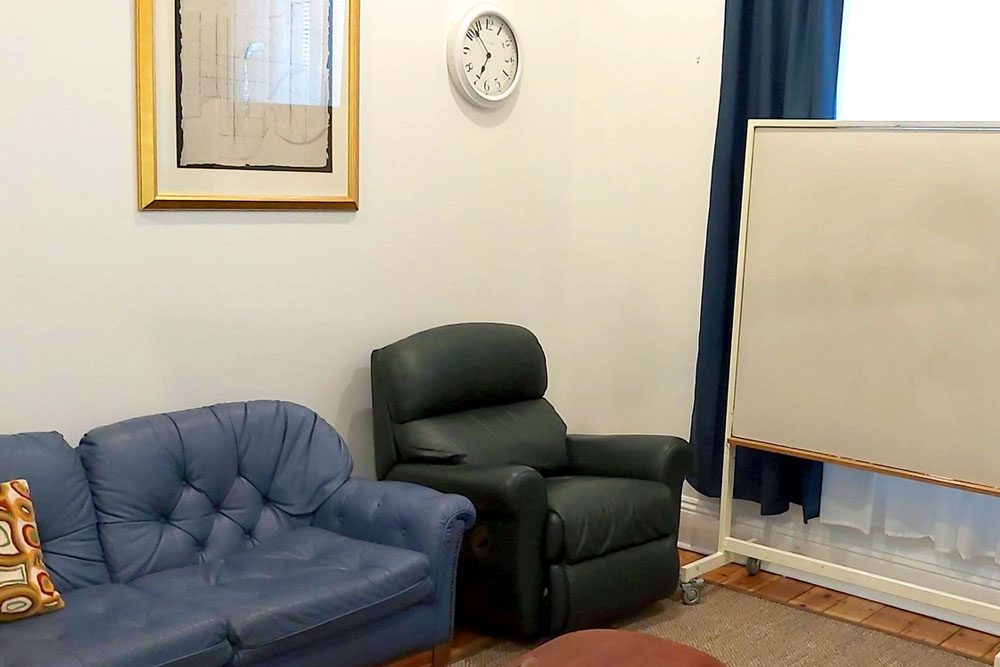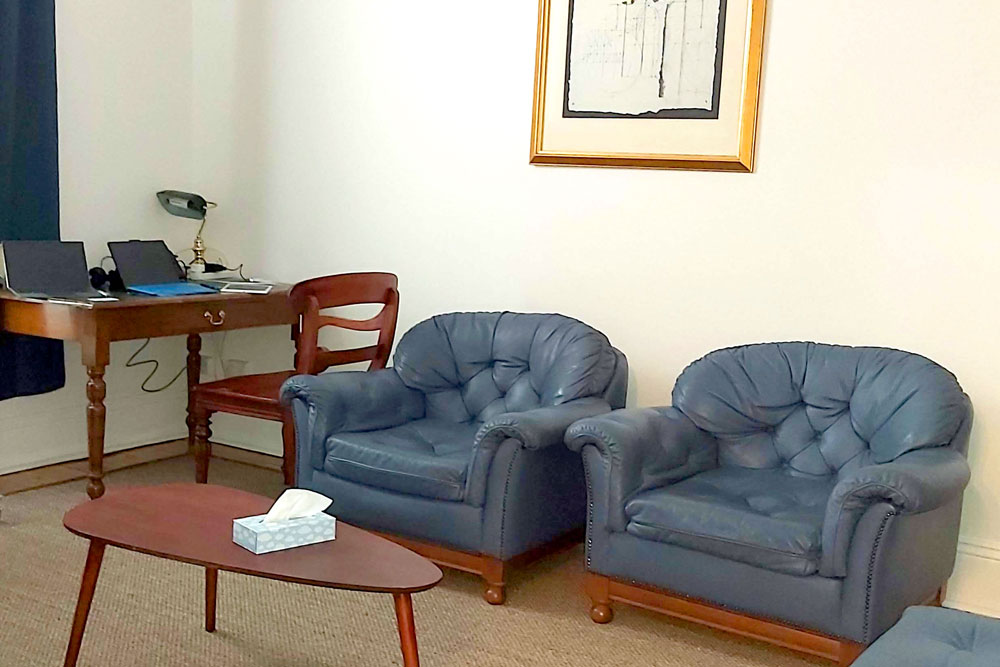 As psychologists and therapists, we offer a confidential objective sounding board for you.
We listen to you without judgement and work with you to provide practical strategies, support and insight based on up to date scientific research to help support change and better manage any emotional and mental health issues. We also support you if you are wanting to improve your performance.  
Some of the outcomes you may experience when you work towards your own goals are:
Therapy or Performance Coaching
Improved wellbeing
A more mindful life
Relaxed mind and body
Confidence
Contentment and fulfilment
A sense of greater joy and fulfilment
Effective management of stress and anxiety
Successful adjustment to changes
Improved relationships
Better work/life balance
Improved attachment between child and parent
Harmonious family interactions
More able to regulate emotions and unhelpful thoughts
Learning how to lessen the impact of past trauma
Achieving peak performances for musicians, actors, dancers and other creatives
Delivering confident presentations
Improving performance at work or study
Preparing for critical exams
Making values based performance career choices
Supporting and sustaining your arts career, mental health and relationships
Use the contact form to make an equiry today.
Or make an appointment enquiry using our form
Subscribe to our newsletter Attuned Life
Would you be interested in receiving our occasional newsletter, event information and other useful tips via e-mail?